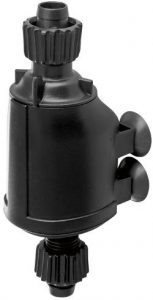 View On Amazon
| | | | | | |
| --- | --- | --- | --- | --- | --- |
| GPH | Dimensions | Max Head | Noise Level | Longevity | Price |
| 210 GPH | 6.2″ x 2.2″ x 2.8″ | 39″ | Low | 3+ Years | Medium |
The Cobalt EXT inline water pump is a rare breed. Inline equipment reduces the over all machinery in your tank, keeping water volume as high as possible while reducing any excess heat factors.
The trade off here is priming the water pump and its weaker flow. If you are looking to increase the flow of an existing pump this is 100% your answer. If you want a stand alone pump the Cobalt EXT will take a bit of work.
Set-up
First and foremost I must remind you that this pump is not submerged. This means you will need to get the pump and its tubing full of water before activating it. This can be quite a difficult task if you are not willing to suck on the tube. I personally use a different pump to prime this one, then remove the secondary pump.
As the pump is not submerged it will also be more audible than most pumps. It is by no means loud, but you will no doubt hear it.
The power cord on this pump measures a decent 6 feet, while the nozzles will are designed for 5/8″ ID tubing. They will accept 1/2″ ID tubing as well. There are locking rings to help keep the connection in place, which takes most of the worries away from an inline pump.
The Cobalt inline aquarium pump has four suction cups on the bottom of the pump, which lets you secure the pump to any flat surface. This is helpful for keeping the tube in place, however it increased the volume on my set-up. The pump is fine to hang free, so long as the tubing supports it.
This brings us to the most important part of set-up. Plumbing, no matter how simple the set-up, should never be taken lightly. Ensure all of your tubing is connected firmly and will not slide over the years it will be used. If I can pull off my tube with a slow, weak pull then I will not trust it with even a 40 gallon water column. Likewise ensure that the end of the tube will stay in place when the pumps are on. My first set up was a tube hanging into the tank with a PVC L pipe holding it in place with only its body as support. As dumb an idea as that was it still worked for years. I'm just lucky it never fell off and flooded the upstairs room it was in. It could have caused hundreds of thousands in damages!
Assembly & Cleaning
When disassembling and reassembling the Cobalt inline pump you will be handling the intake valve.
First you will need to unscrew the compression nut(1) and impeller housing(2). After this you will be able to remove the impeller(4) along with its shaft(5).
The impeller and shaft should be cleaned by soaking a 50/50 mix of water and distilled vinegar, followed by wiping them off with a soft material.
While the two parts are soaking you can clean out the pumps housing and the connected tubing. Remember not to use any chemicals and only scrub them clean with materials that have not been used for anything but aquarium handling.
Rinse off the impeller and shaft before reassembling the pump in reverse order. Run the pump while submerged to ensure it is working properly before setting it back up.
Flow & Adjustments
The flow is not adjustable on this unit and the pump will lose a fair amount of power when climbing any vertical distance. The head is only a bit over three feet, so you will not be able to use this as a stand alone sump pump.
Note: Remember this pump is not particularly strong and must be used within its maximum head range only. Should the pump fail to push water continuously while the output tube is submerged in water, a reverse siphon will begin. This will drain the higher body of water down the tube and out the pumps intake. This can easily cause floods in water storage containers, sumps and refugiums. Only use water pumps within their maximum head limit!
Warranty & Lifetime
Cobalt offers a hearty 3 year warranty on this pump, making it one of the longest protected aquarium pumps out there. you will need to call their customer support listed on the bottom of their home page.
When used properly, with no dry running and once a month cleaning owners will often see a lifetime of up to 6 years. Their products are produced in Italy, removing the chance for poor Chinese construction that many other products have. Should the pump fail within the first three years and be replaced, you would actually get a better lifetime than most owners. Remember the impeller is the main component that gets damaged, and this is either from too much tubing or running the pump dry. Avoid those two and the Cobalt Inline pump can work wonders.