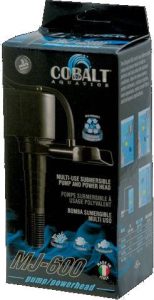 View On Amazon
| | | | | | |
| --- | --- | --- | --- | --- | --- |
| Size | Dimensions | Tank Size | Noise Level | Longevity | Max Height/Head |
| 160 GPH | 5.5″ x 2″ x 3″ | 15-40 Gallons | Very Low | 7+ Years | 53″ |
Cobalt's MJ600 powerhead is a much higher end version of the Marineland Maxi-Jet. It is produced in Italy rather than china and uses metal in place of plastics for the interior components. The wattage is fairly low coming in at 7.5 watts and the lifetime is absolutely amazing. For smaller aquariums and water pumps the MJ600 never disappoints.
Set-up
When setting up the Cobalt MJ600 powerhead you will first need to choose your mounting device. The powerhead comes with both a suction cup mounting base as well as a hanging bracket. The suction cup method lets you put the powerhead deep underwater and generally makes less noise, while the hanging bracket allows for easier use of the air injector feature.
To use the air injector feature you will need to attach the provided air line tubing to the top of the powerheads output nozzle. This injects a stead stream of bubbles into the aquarium, eliminating the need for an air pump. This is a huge plus in my opinion, as powerheads generate a lot of noise no matter how you set them up. My old powerhead was wrapped in a towel, put inside 3 different boxes and placed in a different room and it still made more noise than the MJ600 powerhead ever did.
You will also need to choose if you are using the venturi attachment. This is the one that looks a bit like a vacuum cleaner attachment. It allows full control over the waters direction.
If you are going to use the powerhead as a water pump, you will need to use 1/2″ ID tubing. The max head is a decent 53″, however using it at the limit will often create a bit of noise, so I suggest limiting how much pressure you put on this powerhead.
Finally the cord is 6′ long letting you place the powerhead wherever you want. for my tanks this was actually far too much cord, so I left a good amount of it coiled up and tied down.
Assembly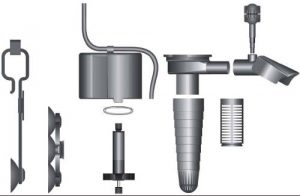 The body comes apart from the nozzle and grate with relative ease. Simply pull them apart and you will gain access to both the impeller and its mount. While the grate can be scrubbed with any abrasive material, the impeller and impeller mount must be cleaned off using a softer material, such as a cotton swab. This prevents any scratches, which would cause irregular spinning and damage to the propeller.
Note: The warranty does not cover calcium build up, making regular cleaning essential. For the best results Cobalt recommends soaking the powerhead in distilled vinegar for up to twenty minutes. This makes the calcium come off much easier, extending the lifetime of the MJ600. This is especially important for reef owners as corals demand plenty of calcium to grow.
Warranty & Lifetime
Cobalt provides a 3 year limited warranty which covers most damages. User damages such as attempted modding and excessive force are not covered, but shipping damages are. To contact their customer service, for returns or any other issues, you will need to call Cobalt at 803-591-9500.
The lifetime Of the MJ series powerhead can almost compete with Tunze, but comes at a much lower price. Almost all powerheads will live past the 7 year mark when well cared for. This drives the cost per year down to below almost any other powerhead, making this one of the best value powerhead for small aquariums.