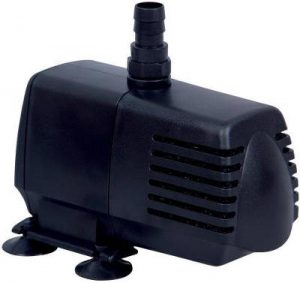 View On Amazon
| | | | | | |
| --- | --- | --- | --- | --- | --- |
| GPH | Dimensions | Max Head | Noise Level | Longevity | Price |
| 75 GPH | 1.9″ x 2.1″ x 1.7″ | 2.5′ | Very Low | 2-5 Years | Low |
| 100 GPH | 3″ x 1.6″ x 2.1″ | 3′ | Very Low | 2-5 Years | Low |
| 132 GPH | 1.9″ x 2.6″ x 2.3″ | 4′ | Very Low | 2-5 Years | Low |
| 158 GPH | 5.6″ x 2.1″ x 2.9″ | 6.5′ | Very Low | 2-5 Years | Low |
| 290 GPH | 6.2″ x 2.5″ x 3.5″ | 6.5′ | Very Low | 2-5 Years | Medium |
| 396 GPH | 6.4″ x 3.1″ x 4.5″ | 6.5′ | Very Low | 2-5 Years | Medium |
| 594 GPH | 7.2″ x 3.1″ x 4.3″ | 7.5′ | Very Low | 2-5 Years | Medium |
| 1083 GPH | 7.8″ x 4.3″ x 5.5″ | 9′ | Very Low | 2-5 Years | Medium-High |
| 1347 GPH | 9″ x 4″ x 6.2″ | 13.5′ | Very Low | 2-5 Years | Medium-High |
| 1505 GPH | 6.9″ x 4.9″ x 8.7″ | 20.3′ | Very Low | 2-5 Years | Medium-High |
| 1638 GPH | 9.3″ x 5.1″ x 6.9″ | 12.5′ | Very Low | 2-5 Years | Medium-High |
| 2166 GPH | 10.6″ x 5.8″ x 7″ | 16.5′ | Very Low | 2-5 Years | High |
| 3170 GPH | 11.5″ x 6.4″ x 7″ | 14.5′ | Very Low | 2-5 Years | High |
| 4750 GPH | 12.1″ x 7.5″ x 6.9″ | 20′ | Very Low | 2-5 Years | High |
| 7400 GPH | 13.4″ x 11.3″ x 8.5″ | 23′ | Very Low | 2-5 Years | High |
The EcoPlus submersible pump offers a size for every use. The small pumps are ideal for slow moving fish, automatic top off systems, watering plants and slowly draining water.
The bigger sizes can do anything from aquarium sumps, water changes or mixing salt. Heck these pumps are so strong they can be used for draining/filling swimming pools.
Set-up
The instruction manual is quick to warn users not to submerse this pump more than a few feet. Doing so will cause more pressure than the pump is made for, drastically shortening its lifetime. Try to keep it only 2 feet under water.
When fully submerged you will notice almost no noise unless the pump is directly against the side of its container. This can be difficult to avoid in cramped sumps, so be sure to measure where you plan to place the pump.
To install you will need to choose the pumps connector valve. Each pump has different sizes, which are:
75/100/132 GPH Models: .25″, .375″ & .5″
158 GPH Model: .75″ x .625″, .5″ x .625″, .375″ x .625″
290/396 GPH Models: .75″ x .75″, .5″ x .75″
594 GPH Model: .75″ x .75″, .5″ x .75, .75″ x 1.25″
1083/1347 GPH Models: .75″ x 1″, .5″ x 1″, 1″ x 1.25″
1638 GPH Model: .5″ x 1″, 1″ x 1″, .75″ x 1″, 1 x 1.25″
2166 GPH Model: .75″ x .125″, 1″ x 1.25″, 1.25″ x 1.25″
3170/4750 GPH Models: 1.5″ x 1.5″, 2″ x 1.5″
7400 GPH Model: 2.375″ x 2.375″, 2.375″ x 2.125″
Choose a tubing that matches your desired models size. When ordering online you must be prepared to deal with tightly coiled tubing. Rubber tubing will often retain this curve when opened, making the set up more difficult without anything to hold the tube in place.
If you wish to straighten out the rubber tubing you will need to heat the tube while it is straight. This is best done via clamps and a heat gun.
Use the suction cup base to secure the pump into place. You will want the pump to be fully submersed, with deeper submersion allowing for more noise reduction. Remember not to go past 2 feet for the best performance. If the pump is going to be used in a loud area, less submersion will allow for even greater water flow.
The impeller is fairly silent on start up and does not run the risk of running in reverse. Remember: if the power is stopped while the end of the tube is under water, with the second end of the tube being at a lower elevation, a reverse siphon is almost guaranteed to start. Either remove the tube from water when shutting off the pump or create a reverse siphon stop. This is often done by creating a small hole near the end of the tube, which allows air into the stream. This relieves the pressure that causes the reverse siphon and stops the process. If you are choosing this solution be sure to test it!
Assembly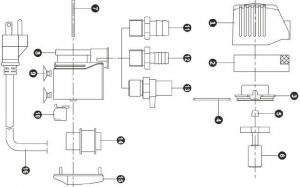 There are three different cord lengths:
75-396 GPH: 69″
594-2166 GPH: 175″
3170-7400 GPH: 392″
When using these wires for an aquarium you will probably be keeping most of the wire coiled up. If you are using the EcoPlus submersible pump for an outdoor pond the cord length can be a real life saver.
Each model comes apart a bit differently, with the official manual in hand it's a quick and easy process. In most cases you will only want to remove the front grate and clean out the impeller.
The grate comes off easily but the impeller must be turned counterclockwise to release the locking mechanism. After that you are free to remove it and clean off the impeller. You should also clean out the impellers mount. Do so using a fairly soft material, such as a cotton swab. These parts are magnetic and sensitive, meaning any scratches can cause irregular performance and drastically shorten the pumps lifetime.
The EcoPlus is not made to be outside in freezing temperatures. If left out the insides can freeze and easily break the pump. Additionally, when removed from water, the pump should be disassembled and dried before storage. Despite being meant for underwater continuous use, the pump is highly susceptible to rust when removed from water. Always clean and dry this pump before putting it away.
Flow & Adjustments
the flow is consistent with what is listed, however if you are planning to use the EcoPlus for vertical movement you will need to get a size or two higher than measured. While they are certainly capable of their maximum head the resistance created by gravity will reduce the flow a fair amount.
These pumps are all non adjustable, as EcoPlus has a separate, adjustable pump in production. To match my tanks overflow box I used a separate flow control valve I purchased from the hardware store.
Warranty & Lifetime
EcoPlus offers a full, one year warranty on this model water pump. This will cover any broken rotors or faulty parts you may find in the first year. After that the pump will only give out from excessive stress caused by dirty water or exceeding the maximum head.
When well cared for the pump will easily last over 6 years. This means taking the EcoPlus submersible pump apart, cleaning out any build up and reassembling it each month. This process only takes a few minutes but will keep the pump going longer, with full flow.