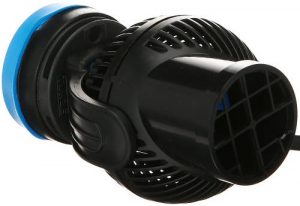 View On Amazon
| | | | | | |
| --- | --- | --- | --- | --- | --- |
| Size | Dimensions | Tank Size | Noise Level | Longevity | Price |
| 2100 GPH | 4.5″ x 3.5″ x 3.5″ | 105-265 Gallons | Very Low | 4-12+ Years | High |
The Tunze Turbelle Stream 6085 is a high strength, low power draw, 14w, powerhead that can easily keep massive tanks well circulated. The price is high but the value the Tunze returns is well worth the investment.
The 6085 model does not have adjustable flow, can easily live over a decade and is mounted in place with the use of powerful magnets. Overall it makes for a big investment to the tank that you can appreciate for longer than any other powerhead.
Set-up

Setting up the Tunze Turbelle stream 6085 is a quick and easy process, with the magnets being the only concern here. Whatever you do keep these magnets separated and only move them when you are ready to put them in place. Their strength is no joke and can easily injure you by clamping onto your body.
First you will need to connect the mounting bracket to your interior magnet. This is done using four small rubber connectors, which dampen sound and give Tunze their legendary silent performance. I find it easiest to attach all four to the magnet and then push the mounting bracket into place.
Next you will lower the interior magnet into the tank while holding the exterior magnet in place. This is typically done in reverse order, but I don't trust my bigger fish with my hand staying still for so long. Keep a firm grip on the base of both magnets as they will try to pull together. You can even place the magnets at different heights, lowering the higher magnet into place to avoid any sudden lunges the magnets can make.
With the magnets and mounting bracket in place you can finally place the powerhead into the tank. Simply lower it, rotating to remove any trapped bubbles, and place it into the mounting bracket. Give it a few adjustments, turning the magnets to get side to side movement and swiveling the head up and down for vertical changes. You can now plug the powerhead in and make any more adjustments.
Note: The force is strong with this powerhead. Be sure any rocks in front of it are well secured, and the same for corals too! The Tunze 6085 can easily blow these over, resulting in rock slides or damaged corals. It doesn't read 2100 GPH for no reason.
Noise, safety & features
When starting the Tunze 6085 for the first time you will probably hear more noise than you expected. This is caused by a tightly fitted propeller, which will quickly settle into place, making the powerhead dead silent after a few hours.
Additionally Tunze brand powerheads often run in reverse 30-50% of the time when new, as the propeller is not settled in. This solves it self just as the noise issue does, while also resolving itself via a drag measuring mechanism. Additionally you can manually fix the issue by unplugging and restating the powerhead.
A quick note here is that all Tunze powerheads come with a 2 meter cord, which is just over 6.5 feet. While this is perfect for smaller powerheads, it can often prove to be too short for larger tanks. You can help remedy this issue by placing the power strip it's connected to closer to the top of the tank. You can also use extension cord, but these have their own issues. Be sure to create a drip loop both before the main power source and the extension cords connection. Both are huge fire risks otherwise.
As the last part of this section, the Tunze 6085 is incredibly fish safe, featuring small grates around the powerheads propeller and a fairly small front mounted grate. The sides keep any fish from being sucked into the propeller, while the front mounted grate prevents any curious fish from entering during off times, such as during feedings or cleaning.
Opening The Tunze 6085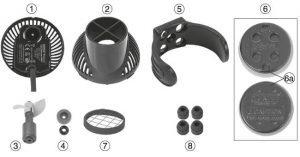 When it comes to maintenance Tunze powerheads are always friendly. This model snaps apart at four separate clips in the middle of the powerhead, giving you complete access to the grate and propeller. Additionally you can remove the propeller to clean out the propellers mount. Both the propeller and mount should be cleaned using soft materials. Any rough materials can easily scratch the magnetic components on these pieces, resulting in odd spinning. This increases noise generated while also dramatically shortening lifespan. A cotton swab always serves me best for cleaning these parts.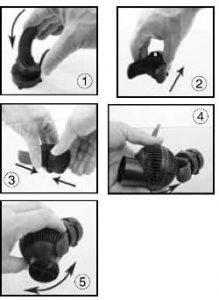 Cleaning the grate often depends on how dirty it is. I like to scrub mine clean using a tank only sponge. While coralline algae looks nice and often won't interfere with the Tunze 6085's strength, It is much easier to scrub it 100% clean. For the most part you will want to keep any large debris away from the powerhead. Macro algae that enters the powerhead will be shredded instantly, sending fragments all over the tank.
Flow & Adjustments
The flow on the Tunze Turbelle 6085 cannot be adjusted, which is pretty surprising at this price point. With the smaller 6045 model having flow adjust it's a wonder why they didn't include it on the larger ones. Still I prefer the constant high flow rate, as it keeps the sandbed clean and the corals moving.
The direction. of the powerhead is almost 360 degrees, which is only limited by the mounting bracket. There's no real reason to point the powerhead straight up or down, as this just causes sandstorms and geysers. The head can be swiveled up and down but the magnets must be rotated sideways for any further directional changes.
rotation and speed adjustment
Warranty & Lifetime
Tunze has got to have the best customer service i have ever dealt with. They will assist their customers with any issue you can come up with and will repair or replace your powerhead for 2 years. The warranty, however, almost always goes unused.
The lifetime is what Tunze is known for. Well that and small, silent powerheads. Most Tunze will live well over ten years, with the range being 4-15+ years. When dividing the cost over 10-20 years the powerheads price drops significantly, making it extremely high value.
Separating Tunze Magnets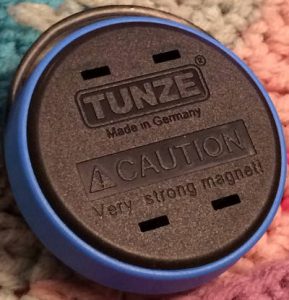 If you happened to get the two magnets stuck together don't worry. It happened to me and only took about an hour to undo. In reality it only took about 5 minutes but I had no idea how to separate them at first.
Simply take the magnets to a strong, straight edged surface and place one magnet on the surface with the other hanging free. Next you will need to apply plenty of force on the hanging magnet. Pushing downwards is easiest but you can do up if you want. The magnets will slide apart, which is possible as sliding takes far less force than pulling them apart.
Be sure to keep these magnets well away from one another as well as any small metal objects. They can easily yank nearby forks, knives or metal tools. Carry them back to your aquarium and install them ASAP to avoid any future issues.
Summary
The Tunze Turbelle 6085 is a big investment with an even bigger pay off. The powerhead will provide amazing flow for over a decade, without suffering any power loss. Tunze, the company, will always assist its customers even after the warranty has ended, sometimes even shipping out free replacement parts to those who know how to fix them. If you're ready to buy a long lasting, efficient and silent pump the Tunze 6085 is made just for you.