Deckey Freshwater Aquarium LED Lighting Fixture
Marineland LED Aquarium Light
Finnex Planted+ 24/7 Fully Automated Aquarium LED
Marineland LED Light Hood
Fits Aquariums:
12″ – 45.2″
Fits Aquariums:
11″ – 30″
Fits Aquariums:
17″ – 49″
Fits Aquariums:
20″ x 10″
LEDs: 36-144
LEDs: 60
LEDs: 48-144
LEDs: 25
Watts: 6-25
Watts: 3.6
Watts: 16.8-46.2
Watts: 2.7
Price: $$
Price: $$
Price: $$$$
Price: $$$
View On Amazon
View On Amazon
View On Amazon
View On Amazon
The average 10 gallon aquarium light should span 20″ long and be relatively inexpensive. This does not mean low quality as LED lighting has made huge strides in the past few years. What used to be outrageously expensive is not only mildly priced, making the great lights have much lower prices. This has brought the world of planted tanks and corals to the average household, allowing their tanks to shine on like never before.
Deckey Freshwater 10 Gallon Aquarium Lighting Fixture


View On Amazon
The Deckey comes in multiple sizes, each with their own specifications. While we will only need the 50cm/19.7 inch model, here are all the exact specs.
| | | | | |
| --- | --- | --- | --- | --- |
| Size | Fits Aquariums Size | Watts | Amps | LEDs |
| 11″ x 3.9″ x .5″ | 12″ to 20″ | 6 Watts | .5 Amps | 36 LEDs(30 white + 6 blue) |
| 20″ x 3.5″ x .5″ | 19.7″ to 27.6″ | 11 Watts | 1 Amp | 72 LEDs(60 white + 12 blue) |
| 28″ x 3.9″ x .7″ | 28.3″ to 35.4″ | 18 Watts | 1 Amp | 108 LEDs(90 white + 18 blue) |
| 45″ x 3.9″ x .5″ | 37.4″ to 45.2″ | 25 Watts | 2 Amps | 144 LEDs(120 white + 24 blue) |
As you may have noticed the smallest size does in fact fit our 10 gallon aquarium. However it will not provide the best lighting to the corners of the tank. If this is not a concern to you feel free to pick the smaller model and save a bit of cash.
Set Up
One of the great things with Deckey lighting is there are no frills or add-ons to worry about. simply plug in the light, put it in place and you're set. That doesn't mean there aren't a few extra bits of info that are helpful to know.
First off the light is not water resistant what so ever. Even mist created via aeration can damage the light, making a glass top essential to using the Deckey light for your 10 gallon aquarium. This is no real issue as glass tops provide a lot of value to aquariums anyways. If however you will not be adding the glass top onto your tank I suggest you look at a different light fixture.
The cord is pretty nice at a solid five foot long. This gives you all the wire you need to hook your light up and set up a drip loop. Remember these loops are important as the prevent electrical fires.
Finally the Deckey light features a simple switch for the white/blue/off settings. Later in your aquarium hobby you may want to add a timer to the light, but for now simply remember to turn the light on and off each day at around the same time. Fish do develop a schedule, and changing that can cause them stress.
Light Strength
The Deckey actually brings some power along for the ride. Most plants, excluding the more light demanding ones, will flourish under this lighting fixture, allowing your 10 gallon aquarium to become a true aquascape.

The lights are well spaced out and distributed at an angle of 120 degrees, leaving absolutely no room for dark spots in the tank. This allows you to freely arrange the tank. Even tall objects in the center of your tank will not be able to cast shadows under this light.
When using the blue setting on this light you will notice it is not dim like many others. They actually allow you to view your tank at night under a nice and bright blue light. This is not meant for constant use, as the output is much lower and cannot accommodate plants or help relax fish. It is a good idea to give your fish awhile to transition from bright white lights to cool blue lights before finally going to bed.
Lifetime & Warranty
Being a low cost and high strength light, the Deckey features a medium life time of 12-18 months. When well taken care of, meaning no exposure to water, the light can reach over two years of service. In this time you can easily decide if the aquarium hobby is for you and if so which new light fixture to get. Just be sure to keep the light nice and dry so that it lasts as long as possible.
The only issue I have with this light is its short warranty. The Deckey comes only under a 30 day warranty. One month is long enough to see if you have a defective unit, or if the light simply just isn't for you.
Marineland LED Aquarium Light, 11-Inch


View On Amazon
Marineland is always one of my favorite companies to recommend, and this LED light fits the bill perfectly for 10 gallon tanks.
Set Up
This choice takes a slightly different approach than all the others. Rather than buying a full on light strip or hood, this light is actually an upgraded version of the lighting fixture previously found in LED hoods. This means you can use your own type of lid or even an open top tank. For that of course you would need some method of suspension for the light. Personally I just replaced my fluorescent bulb housing in my old hood with this fixture. The hood looks the same but the light is brighter than ever.
Before you go doing any DIY ideas like me note that the switch is located on the top/back of the light. This means there are three ways to use the light.
a.) Use the switch
b.) Unplug the power cord
c.) Use a light timer
If like me you enclose the light in a hood you will have to use one of the latter two choices. The light also does just fine when resting atop a glass surface or suspended above the tank. I just wanted to do something with my old hood.
Light Strength
The Marineland LED aquarium light features 60 evenly placed LED bulbs of .06 watts each, bringing the total wattage to 3.6 watts. Some users have run a few tests and estimate the strength to be between 5-7,000k which provides a beautiful color and high intensity for your aquarium plants.
The setup of the LEDs is similar to most other lighting strips, however the lights are actually in a slight indent. This casts the light at less than a 120 degree angle, making the light not go as wide as other lights. For out ten gallon aquarium LED lighting however this won't be a problem.
Lifetime & Warranty
Most LED light fixtures have quite the life time when properly cared for, and the Marineland LED light is no exception. Lasting between two to three years, this low cost aquarium LED can really provide some value without costing too much. To extend the life time there are heat sinks located on the top of the light, which allow for consistent cooling even when placed on a glass top surface. Like the Deckey light, this LED fixture also must be protected from water. The difference is that each light is separate from the others. If one bulb burns out that is all you will lose.
The Marineland warranty on this product covers the first year. When contacted Marineland is quick to respond and highly courteous. They are one of the biggest aquatic equipment companies out there so this should come as no surprise.
Finnex Planted+ 24/7 Fully Automated Aquarium LED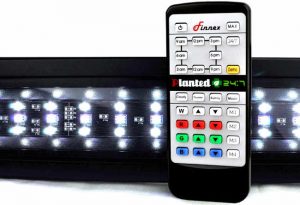 View On Amazon
| | | | |
| --- | --- | --- | --- |
| Size | Fits Aquariums Size | Watts | LEDs |
| 20″ | 17″-21″ | 16.8 Watts | 32 7,000k, 16 RGB, 48 LEDs Total |
| 24″ | 22″-25″ | 24.5 Watts | 38 7,000k, 24 RGB, 62 LEDs Total |
| 30″ | 38″-31″ | 29 Watts | 56 7,000k, 28 RGB, 84 LEDs Total |
| 36″ | 34″-37″ | 35.8 Watts | 72 7,000k, 36 RGB, 108 LEDs Total |
| 48″ | 46″-49″ | 46.2 Watts | 96 7,000k, 48 RGB, 144 LEDs Total |
The Finnex Planted+ 24/7 Fully Automated Aquarium LED is on the higher end of 10 gallon aquarium lighting, offering powerful lights and an amazing controller
Set Up
Because this light has so much going for it I do not recommend simply setting and forgetting the light. To make full use of this LED fixture we will need to program it.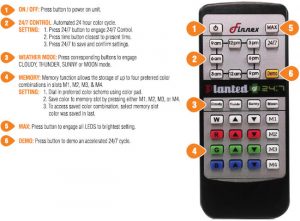 Finnexs very own guide on using the remote
Skip the thunder button as this will only serve to stress out your fish. More importantly you should use the demo button a few times to see exactly where the light looks best in your tank. Once you find that sweet spot use the arrow keys and set your light to match the demo. Perfect light settings in just a couple of minutes. Because there are four settings you can also create more fun light choices for when you want to show off your light. My favorite is a purple looking light set up. It really makes my plants absolutely transform when I hit that M3 button.
Unlike many timers the Finnex comes equipped with a built in memory. This means the light will remember any of your settings after a power outage, saving you the trouble of resetting them each time.
Ok with the programming discussed back to the light itself. Located between the LEDs and your tank is the splash guard. This does just as the name suggests and protects your light from splashes and mist, making this light water resistant. It is still not water proof so be sure there's no way for it to slip into the tank.
Light Strength
For our use I'll be discussing the light at 10″ deep. The PAR readings on max lighting show around 70-75. Combined with our provided wattage and LED count we can easily grow the more demanding plants under these lights. The light on this LED strip is distributed at a 120 degree angle. This coats the entire tank with water without wasting excess light on the floor.
One of the big draws of the Finnex Planted+ 24/7 Fully Automated Aquarium LED is the full color spectrum it features. Plants are able to grow without the full spectrum but they will not be nearly as healthy. Tanks to the full spectrum this is not a problem and your plants will grow tall with rich colors.
Additionally the timer comes back into play here. By using the timing function you can simulate realist sun rise and sunset effects, slowly turning the light on for your tank. This greatly reduces stress as the fish are not suddenly blasted with light or thrown into darkness. This also means you will not have to turn the light on and off yourself, which in my case greatly reduced the algae problems in the guest room. Hard to remember to turn off every light when you have so many on all day.
Lifetime & Warranty
Finnex products always carry a six month warranty. This may not be the longest warranty ever but they are consistently helpful and will frequently help those out of warranty anyways. Just remember to be nice to whoever you contact and describe your problems completely.
The only cut and dry problem here is that water damage completely voids the warranty. When you fiddle with your tanks as often as I do mistakes are bound to happen. knocking a light down isn't unheard of, but this lighting strips feet secure it pretty well. Just be sure your light is not simply resting on the top and at risk of falling into the tank.
The lifetime of the light averages between 1-3 years depending on how well the light is taken care of. If you combine it with a glass top, reduce tank evaporation and keep your homes humidity low you should reach the long end of that spectrum. After that the bulbs themselves average at 50,000 hours of use on average. It is these long lifetimes that make LEDs so valuable to the aquarium community.
Marineland LED Light Hood

View On Amazon
| | | |
| --- | --- | --- |
| Fits Aquariums Size | Watts | LEDs |
| 20″ x 10″ | 2.7 Watts | 22 6,000k White LEDs, 3 Blue 60mW LEDs, 25 LEDs Total |
Bringing in a complete hood, the Marineland LED Light Hood for 10 gallon fish tanks is an excellent choice.
Set Up
Setting up the Marineland LED hood is a bit more difficult than a lighting fixture. First you will need to affix the hood to the rim of the tank. this is done using the two provided clip on hinges. Once in place you are free to open and close the hood as you like.
With the hood in place you can now use the three way light switch to swap between no light, blue light and full light settings. If you have any external equipment such as a hang on back filter you can break off the precut section to fit it into the hood. The section measures 6.5″ x 2.5″ so be sure your equipment fits before trying the hood out.
Light Strength
The light is protected by a glass section that is built into the hood. This keeps the majority of the water out of the light, but over long stretches of time humidity can settle some water on the light. Each LED produces .06 Watts of power, 7.4 lumens and at a 6,000k strength. While the Kelvin ratings would support plant growth, the low wattage means you will only be able to grow low light plants. The mid range 6,000 Kelvins produce a natural looking light without drawing away too much of the power your plants need.
Once you have had the hood long enough and want to upgrade Marineland does feature much newer lighting strips. In fact the previously mentioned Marineland actually fits into this hood and gives it a huge boost of power. However if you don't want plants and would prefer a hood this is by far the better option.
Lifetime & Warranty
The light comes with Marinelands standard one year warranty. The customer service there is absolutely amazing and you can see that on any site selling their products. Even here on amazon Marineland answers hundreds of questions and review complaints without being directly contacted. If your hood or light do malfunction they are more than happy to help.
The hood should have no limit in life time as it just has to exist. It isn't going to disintegrate or anything. The light however should last you between one and two years with ease. The lifetime here is a bit shorter than the newer model that is sold individually, which is fine in my eyes. After two years with fish you are probably going to look into upgrading anyways. Fish keeping can be an addictive hobby!
Looking for more aquarium lighting options? Check out all our other guides on our aquarium lighting page!