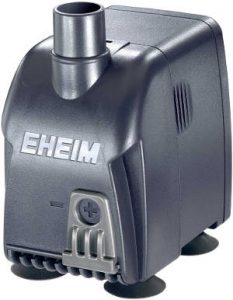 View On Amazon
| | | | | | |
| --- | --- | --- | --- | --- | --- |
| GPH | Dimensions | Max Head | Noise Level | Longevity | Price |
| 158 GPH | 1.77″ x 3.3″ x 2.5″ | 4.2′ | Very Low | 3-6 Years | Medium |
When it comes to reliable equipment, you can always count on Eheim to produce a fair priced product. The Eheim Compact pump 1000 is no different. It has a solid, quiet performance that does not weaken over the years, a good life time and a solid 3 year warranty. If you need a safe buy, this is your pump.
Set-up
Eheim ships their model 600 pump with the body fully assembled, but the suction cups separated. These only take a few second to attach to the bottom of the pump. There are four in total, and given the size and weight of this pump, they are more than up to the task.
The pump accepts a 1/2″ ID tube, which is best purchased online. While you can find this in most hardware stores, the prices are much higher. The problem this creates is tightly coiled tubing. The tubes ordered online will often try and retain the coiled shape when in use, which is pretty inconvenient.
To fix coiled tubing you will need to straighten out the tube while heating it. This can be done by laying it out in the sun, in a bath full really hot water or with a heat gun. This will relax the tube so that it can assume its original, straight shape.
Finally the cord on this water pump is 1.5 meters or 4.9 feet. This gives indoor users ample cord, however outdoor users may need to double measure the length they will need. The plug does not feature the third grounding prong so treat it carefully.
Assembly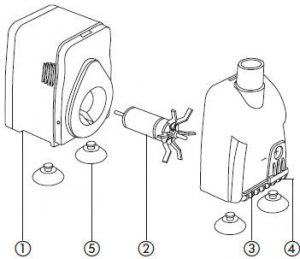 To open the Eheim 600 pump you will need to first pull off the front of the pump. This starts just behind the output and brings the front two suction cups with it.
Next you will need to remove the impeller. This will allow you to deep clean the pumps casing, soak the impeller and wipe clean the magnetic mount. Remember the magnetic parts are sensitive and should be cleaned using a fairly soft material. I prefer using a cotton swab here, as they are soft and disposable. Most other soft materials will have seen chemicals at one point or another and are not fish safe.
Should you need to replace any part Eheim offers all the parts id numbers, making it a simple process.
Don't skip on checking the output nozzle. While it is unlikely, debris can be caught there and reduce the water flow.
Flow & Adjustments
The Eheim compact pump features a flow control slider. This is much more usable than Rios turnable knob, which would often come off once pressure was applied.
The flow itself is fairly powerful and can climb a 4.2 foot head. This may not be enough for most sump set-ups, but it does have a variety of uses. I for one found it much easier to do water changes by sucking out the water and pumping it back in rather than removing my lights and glass canopy each time.
When using the max head you will notice a lower flow rate. This is inevitable as gravity will make the pump work harder to get the water to its destination. If you can I suggest putting the pump as close to the final destination as possible.
Warranty & Lifetime
Eheim offers a 3 year warranty on most of their products, including this pump. It covers any and all faults via craftsmanship, but will not cover misuse or user damage. Likewise this does not cover any water damage that is caused by the pump, so be sure not to cause any reverse siphons.
The lifetime of the normal Eheim Pump ranges between 2-4 years when not cared for and running constantly. For the price this isn't too bad, as you can set and forget the pump for outdoor usage.
If you do take care of this pump you will easily see 3-7 years of lifetime. If you choose to replace broken parts the lifetime will exceed a decade for only a bit of repair.
Looking for more information on quiet aquarium water pumps? Read our full guide here.