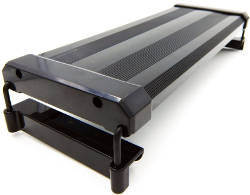 View On Amazon
| | | | |
| --- | --- | --- | --- |
| Size | 11-19″ | 20-27″ | 28-36″ |
| LEDs | 30 White + 6 Blue | 60 White + 12 Blue | 90 White + 18 Blue |
| Power Consumption | 6W | 11W | 18W |
| Recommended Tank Size | Up to 10 Gal | Up to 25 Gal | Up To 35 Gal |
| Cord Length | 1.5m | 1.7m | 1.9m |
The Nicrew LED Aquarium Lighting strip is an excellent introduction to the world of LEDs. It offers fairly strong lighting under a cool 6000k rating.
Those new to reefing will be glad to hear it can support low light corals such as softies, star polyps and mushrooms. Freshwater enthusiasts will love how well it supports plants. Just remember when light can support life so well, it will grow algae.
Set-up
When the light arrives it will be ready to plug in and switched on, however the legs can slide out of the body. For this reason I do not recommend using the light for its absolute maximum size. When fully extended the legs are prone to slipping out, which can drop the light right into the tank.
This brings us to our next point. The light is in no way waterproof and should be protected from splashes and humidity at all times. This is best done using a glass top for the tank. Likewise a waterproof sealant can be applied to the light to help protect it. If you choose this route keep in mind the light will now have chemicals on it, making it even more dangerous to the tanks inhabitants.
The legs have clamps on the ends of their feet, which will fit onto any surface up to 1/2″ thick.
Once in place you will need to determine how you will be using the light. The moonlight setting is a rich deep blue, but too blue for my tastes. For this reason I have put the light on a simple on/off timer.
The lights settings are controlled by a switch on the body of the light. This means you cannot control the lights settings with a controller and instead must change it by hand. This is another reason I avoid using the nighttime mode.
Assembly & Cleaning
Because this light is not waterproof, it is treated like a disposable light. Even with a glass top between it and the water, humidity will eventually bring the light down. For this reason I advise you do not take the light apart unless you are willing to let it dry in a warm, dry area before putting it back together.
To clean the Nicrew LED light strip you will need to remove the acrylic cover and wipe down both sides.
If there is any algae on the LEDs themselves, you will need to gently brush them clean using a cotton swab. Do this gently and with the LED unplugged. If you must use any liquids to wipe away the algae you will also need to leave the light to dry for awhile. Any moisture can damage these LEDs, making this best suited for just before lights out.
LED Strength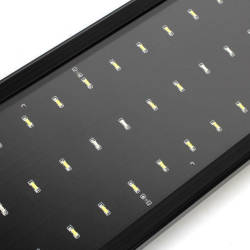 Unlike larger brands such as Marineland, Current USA and Aquaillumination, the Nicrew does not release any information on the lights strength. After reading deep into this light I have found the model of LED used for this light strip. The 2835 SMD LED runs a 6000 K with 25 lumens per LED. This would certainly explain the brightness of the light fixture. The LED producer is Epistar, a company well known for powerful, long lasting LED.
When tested with breeder tanks, which are longer and allow light to more easily reach the bottom of the tank, the Nicrew LED light strip was able to maintain many softies, star polyps and mushrooms.
When placed on deeper tanks, the corals would survive, but would never fully expand. This means the light can pass for low light corals in shallow tanks and even be used as a complementary light when tanks need more lighting. Tall or large reef tanks will need to look elsewhere for lighting.
On the freshwater scene the Nicrew LED light strip performs quite well, growing plants at a rapid rate. However this rapid growth can also grow a fair amount of algae in nutrient rich tanks. If you see excessive algae try reducing feeding and having the light on for shorter periods of time.
Warranty & Lifetime
The warranty offered on the Nicrew is an amazing 12 months long. While this may not be nearly as long as more expensive lights, it is miles ahead of similarly priced lights. It is, however, unlikely to cover water damage so be sure to either use a glass top or keep water movement to a minimum.
When it comes to lifetime there is really only one deciding factor: when does the water get to it? Depending on your preventative steps this light can last anywhere from a few months to several years. The LEDs sure wont burn out any time soon, and the body will only break if you mishandle it. This is the kind of light I wish was available when I started reefing.