| | | | |
| --- | --- | --- | --- |
| AquaIllumination Prime LED Light | ABI LED Aquarium Light | Wave-point Mirco Sun LED | Finnex FugeRay Planted+ Cliplight |
| | | | |
| 50 Watts | 12 Watts | 8 Watts | 5 Watts |
| Lifetime: 10+ Years | Lifetime: 8+ Years | Lifetime: 1+ | Lifetime: 2+ |
| Price: $$$$ | Price: $ | Price: $$ | Price: $$ |
| View On Amazon | View On Amazon | View On Amazon | View On Amazon |
Nano tanks are a bit unlike the others. Their dimensions are anything but uniform and they often house some of the more demanding inhabitants. In fact many use nano aquariums to grow beautiful corals in stunning displays. On the other hand some of us don't have the space for large tanks and opt into nano tanks because of it. The many ways people get into nano aquariums means that every has different nano aquarium lighting needs
Finding The Best Nano Aquarium Lighting
When looking for lighting specifically made for nano aquariums we typically need
Reliable Aquarium Lighting
Specific Lighting Strength
Colorful Lighting
Reasonable Power Draw
Attractive Design
Strong Customer Service
Our lights need to last a long time if we are going to drop any real amount of money on them. Likewise they must produce a good looking spectrum of light that will support our tanks need. If the light itself looks bad we could not cover our tank with it. Finally the light should not drain money via excessive wattage or have unusable customer service. With all these checks in place we are well on the way to picking the perfect nano aquarium lighting set-up.
AquaIllumination Prime LED Light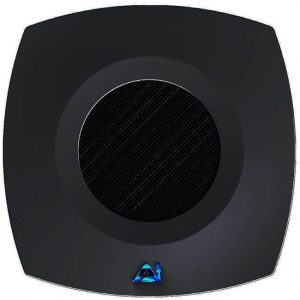 View On Amazon
The AquaIllumination Prime LED Light is the definition of advanced nano aquarium lighting. High strength, efficient lighting, full spectrum, wide spread and app controlled lighting are all some of the features this light brings to the tank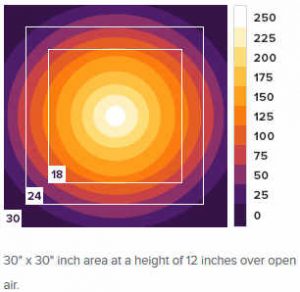 Featuring a wide 30″ by 30″ spread, the AquaIllumination Prime LED Light Can cover most any tank deemed to be a nano tank. Additionally with its PAR rating of 250µMol at 12 inches of depth you will be able to grow anything underneath this fixture.Even with all this strength the light only drains up to 50 watts at maximum strength. This is far below metal halides and high strength bulb lighting fixtures. Typically you would need to sacrifice some strength for the lower wattage, but not with the Aquaillumination. Typically for my tanks I like to keep the light a little closer to the water. This reduces the spread and often allows me to dim the lights strength some, lowering the cost of the light while increasing its lifetime.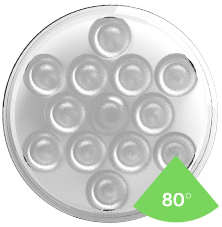 Optics
The Prime model features an 80 degree lens which helps give your tank a nice spread while maintaining full strength. Unlike the typical plexiglass or acrylic normal LED lights feature, the AquaIllumination Prime LED has an amazing 90% optical efficiency, ensuring your light isn't all eaten away by the protective glass. The lenses even feature a diffuse exit surface which helps provide a higher quality of color blending.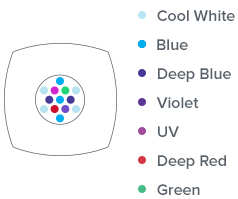 Lastly the LEDs themselves are powerful, efficient and long lasting. The featured bulbs are:
4 Cree XP-G2 Cool White (> 70 CRI)
1 OSRAM OSLON Deep Red
1 Cree XP-E2 Green
3 Cree XP-E2 Blue
2 OSRAM SQUARE Deep Blue
1 SemiLED 415nm Violet
1 SemiLED 405nm UV
Keep in mind you can control the lights through an app on your phone. There is no need to buy a controller here, as you can set the specific lighting color, strength and schedule anytime from anywhere. Useful for those unexpected nights away from home or home movies. Simply use your app to adjust the lights to your desired settings and set up a schedule. It takes a little bit of time to get used to the app but the end results are well worth it. Unlike normal controllers you are not limited to specific ramp up and down times, nor only one day or night cycle per day. As you can set how the light behaves all day you can set long dawns with 3 hour ramp up times and slowly drain the light away at night. I personally never understood the 15 minutes other timers used.
Add Ons
After using this light for sometime I decided to try out the add ons I've seen on the manufacturers website. The first was a mount for the light that is fully adjustable. After using it for awhile I found it to be pretty fun. Once I had the light in place I fine tuned its position until the tank looked perfect. When all was said and done I had rotated my light about 12 degrees inward, far more than expected at first. So while the mount may not be needed it can certainly help you out. If nothing else it's a cool feature to show your fellow aquarists.
Specs & Misc Info
Theres a few extra bits of info that every aquarist should know before choosing any light. The Aquaillumination may be a circle but actually features the strongest lighting just outside the middle of the light. Often times it will not be necessary to put your corals in the strongest light, as the Aquaillumination is an absolute monster at producing lighting, but those with deep tanks or low corals such as hammers should take note of this.
The cord of the light reaches 10 feet long, making it the longest light cord I have ever had. Honestly I don't know what to do with it so half of the length is still coiled together.
The exact dimensions of the light are 4.88″L x 4.88″W x 1.34″H with the light weighing just under a pound.
Lifetime & Warranty
This light is built to last. There is just not much to say other than that. When well cared for you can expect the light t last, full strength, for over 10 years. While most LEDs can try to compete with the time, few if any can compete with the constant supply of full power the Aquaillumination brings.
The warranty on the AquaIllumination Prime LED Light is a bit annoying but lasts a full year. why it bothers me is that you must register it within 30 days of purchase at qualify. Not a huge deal but I don't see the point.
ABI LED Aquarium Light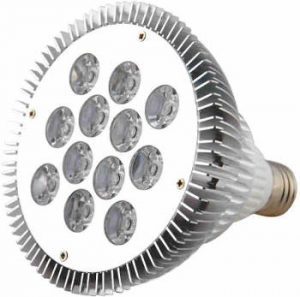 View On Amazon
| | | | | |
| --- | --- | --- | --- | --- |
| Watts | LEDs | Bulb Fits | Lifetime | Warranty |
| 12 | 6 450-470nm Royal Blue LEDs, 6 15,000k Cold White LEDs, 12 Total | Standard Socket | 8+ Years | 3 Years |
Cheap and long lasting, the A Brighter Idea ABI is a powerful light without the extreme price of other nano aquarium lighting fixtures.
Set Up
Because this is only a light bulb, setting up the ABI LED is as difficult as you want to make it. You can choose to pick up the cord that goes along with this light if you don't already have something to screw the bulb into. It's a massive 12 footer so you wont need to worry about placing this light too close to the electrical outlet. Additionally there is an on off switch on the wire. They're fairly cheap on Amazon. With the price of these two combined the ABI still holds one of the lowest costs for a high performance LED light fixture.
Keep in mind these bulbs will ship directly from china. If you don't use primes two day shipping you can expect to wait a few weeks for the bulb.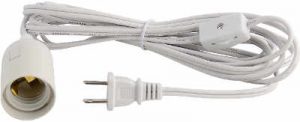 View On Amazon
The light works best individually when suspended only a few inches above the center of the tank. If you are using more than one bulb or are complimenting a different light you will need to set the lights up a bit apart. This will often eliminate any dark corners the tank may have.
Light Strength
The ABI light bulb brings a high 15,000k output combined with 450-470nm royal blue lights. This is spread between the 12 LED lights, 6 white and 6 blue, each of which brings a watt worth of power.
Because there are just as many blue lights as white lights, the light gives off a more blue light than usual. This is generally what you will see at coral dealers and club meetings, as the blue light brings out beautiful colors in both corals and marine fish.
The angle of distribution on the bulb is small at 60 degrees, but will increase vastly by removing the covering. I personally do not recommend this as you can shorten the lifetime by doing so but it is an option.
Lifetime & Warranty
With no fixture or wiring to worry about, the ABI light bulb relies solely on its LED bulbs for the lifetime rating. The bulbs last on average 30,000 hours or over 8 years. Quite a lifetime for this power and price.
Should the bulbs fail you there is a solid 3 year warranty for the bulbs starting from the date of delivery. Simply contact the manufacturer and let them know what the problem is via email at [email protected]
Efficiently
Because of the extremely low cost of the ABI LED light replacing a fluorescent lighting fixture will often result in savings in the first year or two of ownership. Often times fluorescent bulbs will cost almost as much as this bulb anyways. Additionally LED lights are 100% recyclable, reducing the effect of burnt out bulbs on our environment.
Wave-point Mirco Sun LED


View On Amazon
| | | | | |
| --- | --- | --- | --- | --- |
| Watts | LEDs | Dimensions | Lifetime | Warranty |
| 8 | 8 6,500 Kelvin LEDs | 6″ x 9″ x 6″ | 1+ Years | 1 Year |
The Wave-point Micro Sun LED light fixture offers an all in one set-up. The light strength is of medium-high strength while the lifetime varies greatly depending on the care taken for the light. The neck is made of a durable high impact plastic while the lights are protected by a water resistant casing.
Set Up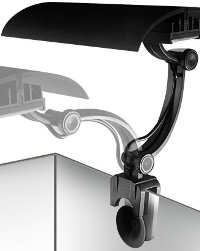 First you will need to attach the fixture and legs together using the provided screws. Only screw they in as much as needed. Excess force on the screws can cause them to break. Additionally if you notice your light is not stable you may have the screws in backwards.
The Wave-point features an adjustable neck that allows you angle the light however you please. For larger tanks with less demanding plants you should opt to stand the light up as high as possible. This spreads the light over a greater distance to help eliminate dark spots.
If your corners are covered you can lower the light to increase the strength the tanks inhabitants receive. This is ideal for heavily planted tanks.
The lights cord is five and a half feet long, allowing you plenty of space to set up this nano aquarium LED light. Oddly they did not add an on/off switch to the cord or light itself.
Light Strength

The daylight bulbs feature 6,500k strength, giving the tank a daytime lighting appearance. This is more than enough light to grow even the highest light demanding plants. For saltwater takes it makes an excellent refugium light, which can help supply our nano tank with pods.
As the light only draws on 8 watts of power very little heat is generated. When touching the light it is only slightly warm as opposed to my stronger LED strips. This is key as cool lights survive much longer.
Lifetime & Warranty
The Wavepoint LED light fixture often survives over one year, but can live well beyond that when properly cared for. If you use an open top aquarium, have high evaporation rates or a generally humid room you can expect to see under two years of lifetime.
The warranty lasts a full year after delivery so long as you fill out the registration card provided in the instruction booklet. That being said even if you forget or don't notice the card you can contact the manufacturer at [email protected] for help.
Finnex FugeRay Planted+ Cliplight


View On Amazon
Finishing up the list we have our Finnex FugeRay Planted+ Cliplight. This light is a great starting point for those looking to get into corals without spending nearly as much as the Aquaillumination.
| | | | |
| --- | --- | --- | --- |
| Watts | LEDs | Lifetime | Warranty |
| 5 | 26 7,000k White LEDs, 16 660nm Red LEDs, 4 660nm Blue LEDs, 46 LEDs Total | 2+ Years | 6 Months |
Set Up
The Finnex Cliplight comes with an adjustable neck and aluminum/plastic housing. Combined with the highly water resistant design and we have ourselves one easy to use nano aquarium light.
The included cord is just under 5 feet at 59 inches long, meaning your tank will need to be close to an electrical outlet. The cord does give enough space for a drip loop with most standard stand heights.
Located on the light is a three way power switch. The settings are on, nighttime and off. Because there are three settings only a direct timer may be used. no smooth transitioning to night unless you flip to blue lights manually
Light Strength
As I stated before this light is a fantastic light for new coral enthusiasts. It supports zoanthid, mushrooms and various other softies, but does not bring the strength needed for more demanding corals. If you are doing a freshwater planted tank you can use moderate light demanding plants with ease.
The large number of red LEDs produces a fuller spectrum than all white/blue LEDs can. This does not make the lighting look red at all, as it gives a standard bright daytime look to the tank.
The light is distributed at a 120 degree angle, making the Finnex excel at lighting up the entire tank. This does sacrifice a bit of the power, which is why it is more for beginner corals.
Lifetime & Warranty
The Finnex Cliplight lives over two years when cared for but does not need to be coddled like the previously mentioned lights. Even when dropped in water the light remained functional. If you do drop it in water you should either Remove the light and let it air dry for several days or open it and dry it out manually. Keep in mind opening the light will void the warranty so only do so if it has expired.
That being said the warranty lasts for 6 months after the date of purchase. This is a little shorter than I like to see on lights, but with Finnex being such a big name you don't have to worry. The defective units are always quickly revealed. Some key things to look for are flickering lights and excessive heating. These are not common and should be reported to Finnex as soon as they are discovered.
Looking for more lighting choices? Check out our aquarium lighting index at www.themandaringarden.com/aquarium-lighting.html