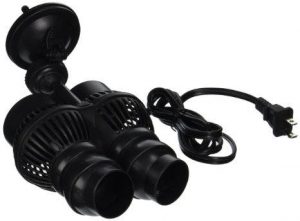 View On Amazon
| | | | | |
| --- | --- | --- | --- | --- |
| Dimensions | Tank Size | Noise Level | Longevity | Price |
| 5″ x 5″ x 3″ | 50-150 Gallons | Medium | 4 Months-2 Years | Impossibly-Low |
The SunSun JVP-201 1585 powerhead is an incredibly priced, high strength dual headed powerhead. It has a cheaper design that will cause most owners a few headaches but for this price there is just no way you can complain.
Set-up
The SunSun JVP-201 model attaches via suction cup, which is a bit weak for this size of this powerhead. For this I highly recommend the heat trick. Heat your powerhead to a high heat (I boil mine for a few seconds) and the immediately attach it to the desired spot. As the suction cup cools the air underneath it will condense, vastly increasing the strength of the bond. Keep in mind this will be much harder to remove/position, so only do this once you are sure of the location.
Next up is the cord, which will somewhat limit the placement of this powerhead. The cord is only 4 feet long, and as such I recommend you put the power strip as close to the tank as possible without making it visible. To do this I tape the power strip to the bottom of the tank, which also makes a forced drip loop, protecting your outlet from any stray water.
Additionally you will not want to place this powerhead, or any high strength on for that matter, too close to the surface of the aquarium. After some water has evaporated the powerhead can create a mini vortex of air, which will feed into the propeller and blast a mist of micro-bubbles all over the tank. The look is anything but appealing, and these bubbles will really go everywhere, making it a bit of a hassle to remove them all as they get caught under rockwork. Keeping the powerhead deeper under water also dampens the noise generated, which is a bit higher than most powerheads.
Finally the size of the powerhead, 5″ x 5″ x 3″, makes it unable to be hidden in most tanks. Plan to have the powerheads exposed. The nice part is that you are essentially installing two 800 GPH powerheads in the same spot, reducing the amount of visible machinery.
Assembly
The SunSun JVP-201 comes apart at the middle of its dual head grate, allowing for easy deep cleaning, which are needed more in this powerhead than most. The grate is a bit awkward to remove, as it is two heads rather than one, so be ready for a bit of a learning process.
The grates built into the side of the powerhead are somewhat weak, so try not to use too much for when opening the powerhead. Breaking one or two wont really hurt the unit, but they are essential for keeping slow swimming fish out of the high velocity propeller.
The front of the powerhead does not have much in the way of fish entry prevention, meaning if the powerhead is shut off they will be able to sneak inside of it. Either keep it on 24/7, check the insides before turning it on, or install your own mesh net in front of the powerhead to prevent any accidents.
Flow & Adjustments
This model comes mounted on a ball joint, allowing for full rotational control. After that you will use the two tubes at the end of each head to further direct the powerheads flow. These are also ball mounted in nature, and will swivel to face any direction.
The water flow itself is not adjustable, but the water current is very easy to partially diffuse. If you find that the current is too strong for your tank, simply aim a single powerhead to face the wall, which will reduce its power.
If on the other hand you need power flow you can aim the dual heads to face the same direction. This will crease an immensely powerful flow, which is really needed for SPS coral growing tanks. Most fish will not appreciate the two heads facing one spot, as it is so powerful that it is basically unswimmable.
Despite the incredibly low price there is actually little noise on start up and absolutely no risk of running in reverse. How this happens for under $20 on such a big powerhead I have no idea.
Warranty & Lifetime
As per usual SunSun offers no warranty on this powerhead, meaning you will need to take full advantage of the amazon 30 day warranty. Use this time and install the powerhead the day it arrives, giving it a thorough inspection on the 28th day. If there are no issues by this point you can expect a normal lifetime
When well cared for the SunSun JVP-201 will last for 1.5-2 years, making this bargain powerhead impossible to beat for cost per year. If however you neglect any cleaning, or worse do not install it immediately and receive a dead on arrival, you will get between 1-4 months of lifetime. With the lower quality of these parts, care taking really makes a big difference.
Overall if you are looking for a high powered, 100% adjustable powerhead for a low price you will never find a better deal. There are several draw backs to this powerhead, but nothing that cannot be dealt with.