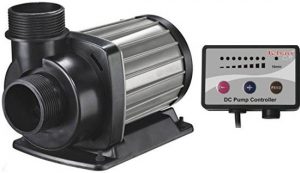 View On Amazon
| | | | | | | |
| --- | --- | --- | --- | --- | --- | --- |
| Model | GPH | Dimensions | Max Head | Noise Level | Longevity | Price |
| DCT-4000 | 1056 GPH | 5.5″ x 3.5″ x 4.4″ | 8.6′ | Very Low | 2+ Years | Medium-Low |
| DCT-6000 | 1585 GPH | 6.5″ x 4.1″ x 5″ | 12.5′ | Low | 2+ Years | Medium-Low |
| DCT-8000 | 2113 GPH | 7″ x 4.1″ x 5″ | 14.7′ | Low | 2+ Years | Medium-Low |
| DCT-12000 | 3170 GPH | 7.5″ x 3.5″ x 5″ | 15.7′ | Low | 2+ Years | Medium |
| DCT-15000 | 3962 GPH | 9″ x 4.7″ x 8.7″ | 16.9′ | Medium-Low | 2+ Years | Medium |
The Jebao DCT Marine controllable water pump is a newer version of the DC series. It is far quieter, runs using less power than most pumps and delivers incredible flow. This is counteracted by more reduced flow after excessive head, making it much more suited to horizontal distances.
Not much flow will be lost in a normal sump under tank set up however, making this pump ideal for everyone who is not going to be using this as a basement pump. The price is well below other pumps of similar strength as is the power draw, making this a much more cost efficient aquarium water pump.
Set-up
Setting up the Jebao DCT controllable water pump is an easy process. The pump comes completely assembled, meaning you will only need to attach the hosing.
The Jebao DCT comes with a multi size connector, which accepts 1″, 1.5 and 3/4″ ID. For the most consistent flow I recommend the 1″, as smaller will create unneeded pressure. This also makes it much easier to use standard 3/4″ pvc pipes, making corners much more stable.
The pump can either be submerged or hooked up to a second hose and ran externally. This will be a much nosier set up. As the pump is not too big and creates almost no heat, I recommend submerging it.
To run the pump externally you will need to prime the pump. This is done by filling the tube with water up to the motor. You can do this with either another pump, temporally lowering the pump below the tank or by creating a suction on the output hose.
The Jebao DCT Marine pump starts up slowly, unlike most pumps which instantly blast a full force flow. This is much easier on the fish as well as the tanks substrate. It was never something I had considered an issue until this pump showed me just how nice a slow start is.
Assembly & Maintenance

Like all pumps you should learn how to disassemble it right away. Doing so allows for deep cleaning, which greatly improves the lifetime of any equipment. For this pump you will only need to remove one part.
By removing the pump cover you will instantly have access to the rotor. Remove this and soak it in a mixture of 50% water 50% vinegar. Leave this soaking for at least 15 minutes.
As the rotor soaks you will want to clean out its housing as well as the body of the pump. While build up on the case will not directly harm the tank, it can cause an increase in heat build up.
Wipe the rotor and rinse it off. Reassemble the pump and return it to its holder. Reconnect all the tubing, priming the pump if you are running it externally before turning it back on. Watch the pump and tubing for a minute to ensure it is all secured in place.
Flow & Adjustments
The controller is amazingly simple. It has three buttons. Speed up, speed down and a feeding button.
There are 10 speed settings, representing 10% each. This is excellent as most owners will be surprised by the power this pump brings. Don't worry if you end up only needing 40-50%, as the pump will use even less power when dialed back. This will also decrease the strain on the rotor, increasing the pumps lifetime.
The feeding button will stop the pump for 10 minutes. After this time is up the pump will slowly ramp up to the previous setting.
Warranty & Lifetime
The Jebao DCT Marine pump lasts a lot longer than its brand name would suggest. Most users will see over a year of service, with well cleaned pumps lasting between 15-24 months on average. This is while under constant use at full power. Using the pump on occasion or at a lower power will dramatically increase the DCT pumps lifetime.
Also unlike most Jebao products, the Jebao DCT Marine controllable water pump comes with a 1 year warranty. This will generally catch any broken rotors or failed motors. Keep in mind that rotors that break due to debris build up are often not covered under warranties. Keep the rotor clean and you should have no worries on returns/repairs.
Looking for more information on quiet aquarium water pumps? Read our full guide here.